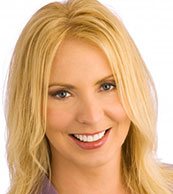 Today, I have the great pleasure of being the host on DAY 1 of the Virtual Blog Tour for Melonie Dodaro, author of the brand new book, The LinkedIn Code: Unlock the Largest Online Business Social Network to Get Leads, Prospects & Clients for B2B, Professional Services and Sales & Marketing Pros. That book will be celebrating its official launch on Tuesday June 3rd, 2014.
MELONIE DODARO is the founder of Top Dog Social Media, a social media agency that helps brands, businesses, professionals and sales teams use social media marketing and social selling to boost their visibility, attract new customers and increase their revenue. Dubbed by the media as Canada's #1 LinkedIn expert and social media strategist, Melonie provides LinkedIn training to corporate sales teams and speaks worldwide at both industry and corporate events and conferences.

Today, I'd like to share with you a recent interview I had with Melonie where I asked her about using LinkedIn groups and creative an effective profile on LinkedIn.
***INTERVIEW***
ERIC: My audience/tribe is comprised of many writers, authors and indie-publishers – What strategies can you suggest they implement with LinkedIn for it to be the most effective with their audience?
MELONIE: A key strategy that will greatly influence the outcome of their success is to regularly grow their network with targeted prospects. This does not mean that they should connect with anyone and everyone, but rather that they should search for and connect with a set number of their ideal clients each week.
Another strategy that may be ideal for writers and authors would be to Post something once a week on LinkedIn's new publishing platform, to showcase their work and help build their credibility as experts. There is the opportunity for Posts to go beyond your network as LinkedIn may share them as part of its aggregated content. As LinkedIn is just in the process of rolling out this new feature, not everyone may have it yet.
ERIC: Are there any specific design elements that you can recommend using within individual LinkedIn profiles in order to attract targeted traffic/audience?
MELONIE: The best way to ensure you attract your specific target audience or ideal clients is by making sure that your profile is written using the language of your ideal clients. I explain the full process and go through a number of exercises on how exactly to do this in my book The LinkedIn Code. Ideally you want your ideal prospects to immediately identify themselves with what you have written in your profile.
Once they have identified the verbiage that your ideal clients use to discuss their situation or problems you should craft your headline, summary section and current experience so it really resonates with them.
It's also a great idea to include multimedia such as videos, slideshare presentations and PDF's in your profile so people can learn more about you and what you do and it makes your entire profile more visually appealing.
ERIC: Why are LinkedIn Groups beneficial and what steps are necessary to create one?
MELONIE: LinkedIn Groups are beneficial for two reasons. The first is that they are an excellent place to find and connect with your ideal clients. The second is that they are an excellent place to establish your credibility as an authority on your topic with possible prospects.
Creating and running your own group is not necessary or even beneficial for everyone. While it can certainly increase your credibility as an expert as well as act as a place to cultivate relationships with your ideal clients, it must be done correctly, is time consuming and can take a long time to develop an active, thriving group. Before you even consider starting your own group you should actively participate in a variety of existing groups that your ideal clients belong to. You can be a member of up to 50 groups. By doing this you will find out what works in these groups and what doesn't as well as your own personal preferences. This will also give you the opportunity to decide if there is any need to start your own group or whether you would be better off participating in larger, existing groups.
***END OF INTERVIEW**
I hope you enjoyed this brief interview with award-winning social media expert Melonie Dodaro. You can find out some of Melonie's TOP SOCIAL MEDIA STRATEGIES – along with those of 10 other TOP world-class social media experts – on her FREE 3-Day Telesummit:
Cracking the Social Media Code:
The Masters Speak!
Register FREE at:
http://topdogsocialmedia.com/book-launch/pages/telesummit.php
Here's Melonie's stellar guest line up (in order of appearance):
MELONIE DODARO – Founder Top Dog Social Media, LinkedIn and social selling expert, author of The LinkedIn Code
LYNN SERAFINN (co-host) – Founder 7 Graces Project CIC, marketer, coach, author of The 7 Graces of Marketing, Tweep-e-licious
JASON MILLER – LinkedIn Marketing Solutions, corporate marketing manager for many companies
JOEL COMM – Entrepreneur, NY Times bestselling author, new media innovator
EKATERINA WALTER – CMO of Branderati, speaker, author of Think Like Zuck, co-author of The Power of Visual Storytelling
MICHAEL STELZNER – Founder/CEO of Social Media Examiner, host Social Media Marketing podcast, author of Launch, Writing White Papers and others
JOHN JANTSCH – Marketing consultant, business strategist, Founder Duct Tape Marketing, author of Duct Tape Marketing and others
PATTY FARMER – Marketing and social media strategist, speaker, trainer, radio host and author
KIM GARST – CEO of 'Boom! Social', social media marketing strategist, entrepreneur, speaker, author
ALLISON MASLAN – CEO of "Blast Off", business mentor, entrepreneur, author of Blast Off!
JILL ROWLEY – Marketing expert, social selling 'evangelist', entrepreneur
Over those 3 days, Melonie and her guests will share their top tips on:
Building Your Personal Brand
Building Your Online Community
Monetizing Social Media
Again, you can register FREE at:
http://topdogsocialmedia.com/book-launch/pages/telesummit.php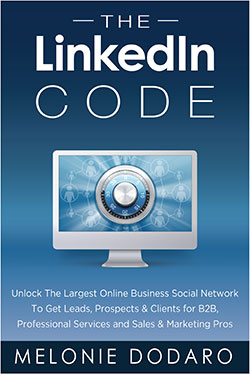 If you cannot make the live broadcast, register anyway so you can listen to audio replays.
THEN, when you buy The LinkedIn Code during its official Amazon launch, you'll receive dozens of valuable free gifts from Melonie and her friends and colleagues. You can CLICK HERE to find out more about the book, and these free gifts.
Thanks for reading! Please do share your comments and thoughts below. I love reading your feedback.
Virtual Blog Tour Day #2: Be sure to follow Melonie tomorrow on the next stop of her Virtual Blog Tour for her newest book "The LinkedIn Code", when she'll be visiting Teresa Lea's 'A Touch in Life' blog at: http://www.intouchinlife.com/resources/blog/ where they'll be talking about finding connections and building relationships on LinkedIn.