Niche Marketing Mini-eCourse Introduction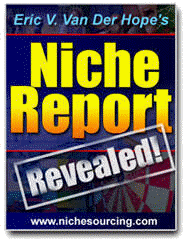 First, you may already be a small business owner, or you may be a retired business owner, you may be of retirement age or already retired, you may be juggling 2 jobs or you may have children and you and your spouse both work . . . I could go on but I cannot imagine the many possibilities of your exact circumstance . . .
All things considered . . . what I'm presenting to you is an education on how you can create additional income now and for your future.
The best medium I thought of to express these ideas is via my eZine/blog – the "Niche Report Revealed".
I will not be suggesting you start something that will cost you an arm and a leg, but I will be showing you how you can start something profitable from the internet. And if you already have your own traditional business, I'll show you how to use the internet to grow even further.
From time-to-time, I'll introduce to you fresh up to date and valuable information on the best resources that will help you and your company as well as thought provoking "how-to" articles that will educate you with the right tools so that you can make informative decisions based on facts but ultimately to motivate you to take action!
To show you how serious I am about wanting you to do well & succeed, I've put together a complimentary 6-Day mini-eCourse that'll teach you some of the things that I've found has helped me with my company.
Here is what will be covered:
Why Niche Marketing can be an extremely lucrative business if planned & organized properly.
The 5 most important things you MUST know prior to deciding on targeting a specific niche market.
Discover what techniques you should be using to evaluate the potential profit of your niche, this will eliminate the wasting of your valuable time on insignificant endeavors.
Proven strategies for creating products quickly, efficiently and at minimal cost to your bottom line.
Develop your in-demand niche idea into an online business in 5 days or less.
Learn a step-by-step approach to building a profitable business from your hobby, passion or expertise and begin enjoying what's generated – multiple streams of income!
But I'm not finished yet . . . I'm also going to give you something right now!
Yep!
And assuming you'd like to know how to start succeeding at your business now, and reap the benefits within days, I'm going to give you something that'll help you along the way!
It's my *Exclusive* Supplemental to my most recent book, "The Niche Sourcing Blueprint".
Time & time again, I've noticed that most marketers completely 'miss the boat' on a critical element while they try to explain how to set up a business, honestly it's almost scary!
Furthermore, they are doing YOU an injustice by not including this within their teaching! So I decided to put together this mini-eBook for you.
However, there is one catch . . . you must absolutely learn this information and then USE IT! 🙂 Otherwise it will be valuable information going to waste! 🙁
You will be reading and learning the most essential element in setting up your company! You will realize that many businesses have failed because the info you are about to read has not been put into practice!
I implore you to not make the same mistake!
Here is the url:
http://www.nichesourcing.com/download/subscribers/
Read it, learn it, use it! 🙂
Well, that's all for now . . . I look forward to 'meeting' and helping you achieve your dreams!
To get started, you can begin by clicking on the link below for your first lesson:
6-Day Mini-Niche eCourse Lesson #1
:::
:::
:::