If you've been following me on Social Media then you probably know what exciting project I've been working on …! It's exciting news & I'm pumped for sharing this with you now 🙂
I'm hosting an Epic Virtual Event called: The Publishing Success Summit, on December 4th through December 18th, 2016. Don't wan't to miss the event launch? Then make sure to add your name and email address to the Pre-Notification list here:
http://PublishingSuccessSummit.com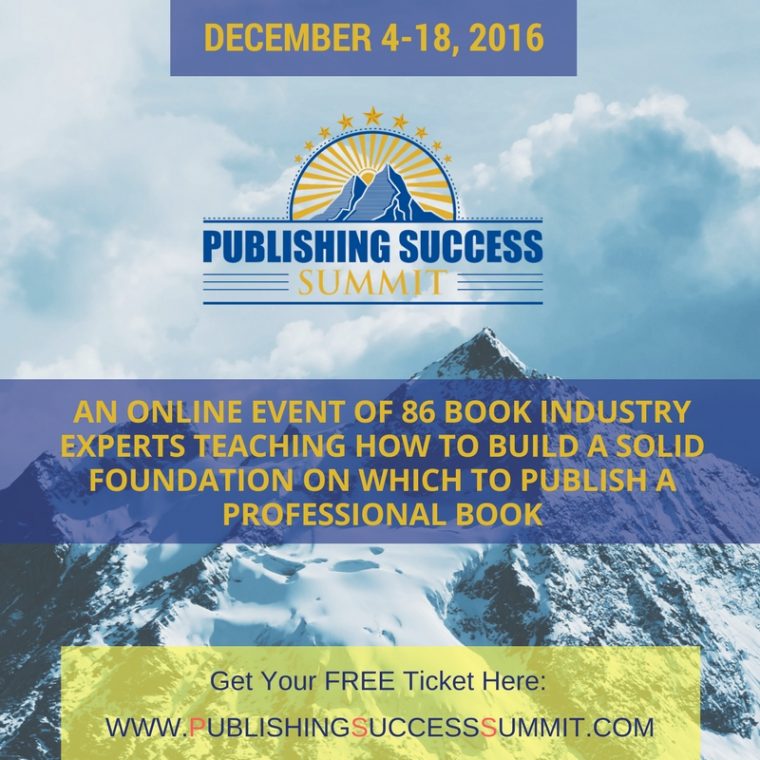 (c) Eric Van Der Hope – www.ericvanderhope.com
It'll be an online event where I'll be bringing you 65 86 Book Industry Experts made up of published authors, platform mentors, ghost writers, designers, editors, literary agents & publishers!
My goal is to help educate people on how to publish successfully so that they can share their message and make an impact on people's lives.
What I've discovered is that many writers and want-to-be authors (even already published authors) do not understand the publishing process and as a result they don't have much success publishing books.
Therefore, I'm hoping this event will provide a solid foundation on the fundamentals of publishing a book.
This will be a no fluff information-packed summit and is NOT a series of presentations selling stuff at the end.
I personally hand-picked all the individuals participating in this event, they are incredible people & I'm honored to host them. These guys and gals have real world experience (not theory) & who many can relate to because they are 'normal' people!
The caliber of the speakers is INCREDIBLE! 🙂
So who are some of these amazing speakers?
Here's a list of the amazing people that have confirmed:
Nina Amir
Tom Antion
Blake Atwood
Beth Barany
Sandra Beckwith
Jennifer Blanchard
Dan Blank
Dr. Judith Briles
Allison Bruning
Jeff Bullas
Roberto Candelaria
Chadwick Cannon
Lise Cartwright
Stephanie Chandler
David Chesson
Karol Clark
Mark Coker
Sue Collier
Amy Collins
Robin Colucci
Honoree Corder
Susan Daffron
Barrie Davenport
Michele DeFilippo
Derek Doepker
Mal Duane
Jill E. Fagan
Joel Friedlander
Susan Friedmann
Rick Frishman
Kimberley Grabas
Connie Ragen Green
David Hancock
Heather Hart
Shelley Hitz
Kent Huffman
Kevin T. Johns
Kristen Joy Laidig
Brian Jud
Carla King
Lynne Klippel
Tom Corson Knowles
Mike Koenigs
John Kremer
Tony Laidig
Elizabeth Lawless
Shawn Manaher
Ken McArthur
Ann McIndoo
Marnie Marcus
Mark L. Messick
Derek Murphy
David Newman
Grael Norton
Kary Oberbrunner
Chris O'Byrne
Jason Oman
Susan Ordona
Marcos Orozco
Bret Ridgway
Ted Roach
Amanda Rooker
Alinka Rutkowska
Penny Sansevieri
Claudia Svartefoss
David Meerman Scott
Steve Scott
Lynn Serafinn
Felicia Slattery
Leia Stone
Lisa Tener
Emma Tiebens
Rachel Thompson
Heather Townsend
Ellen Silverstein Violette
Brooke Warner
Chris Well
Terry Whalin
Dawniel Winningham
Is there someone missing from this list that I should include? Let me know! But due to the logistics of this event, I'm not going to be able to accept anymore speakers for this event. However, I will be hosting more interviews in the future … so hit reply (if you are reading this within your email) or add your comment in the box below and let me know!
I'll be reading your suggestions if you have any! 🙂
More details about this epic virtual summit coming shortly.
I wanted to let you know what's been keeping me so busy the past couple months and share with you some of the behind the scenes details because I'm so excited . . . this will be big, big, big … and I'd love for you to join me in December! 🙂
Remember, if you don't wan't to miss the event launch, make sure to add your name and email address to the Pre-Notification list here:
http://PublishingSuccessSummit.com
Would you mind doing 1 thing …?
Thing #1: Share this article on one or more of your social media platforms (eg. Facebook, Twitter, LinkedIn, Google+, etc.) or click on the little blue birdie below for a quick tweet!
Until next time… stay inspired! 🙂
Don't Miss Out on Future Posts...!
If you found this article to be beneficial, feel free to register to my blog/eZine (below) so that you don't miss out on future posts.
I value your privacy and would never spam you